ExchangeAbility Week Spring 2017
A március 20-ai héten 40 ESN országban kerültek előtérbe a fogyatékosságal élők mindennapi próbatételei, melyből Magyarország sem maradhatott ki. Az ESN SZIE több budapesti szekcióval is együtt dolgozva segített mind a külföldi hallgatóknak, mind a saját mentorainak emögé az égető probléma mögé látni, mialatt belekóstoltak egy merőben új életmódba.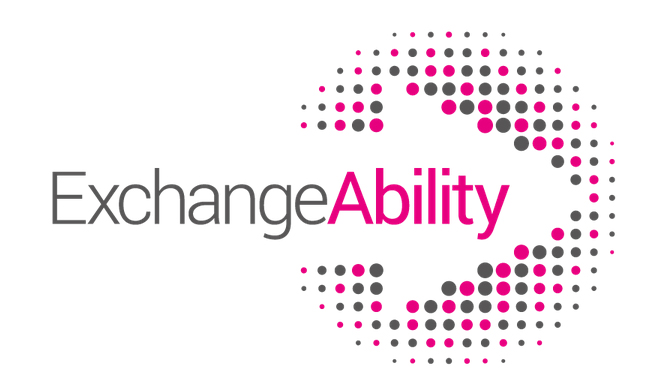 Mert bár az önmagában is egy ijesztő kihívás, mikor egy fiatal nyakába veszi a világot és külföldön folytatja tanulmányait egy teljesen új környezetben, kultúrában és idegen nyelvet beszélő emberek forgatagában - de akkor képzeljük el ugyanezt a szellemileg vagy fizikailag hátrányos helyzetben lévők bőrében. Amellett, hogy ezek a hallgatók a saját feladataikat is nehezebben végezhetik el, a nem akadálymentesített környezetek és különböző sztereotípiák tovább hátráltathatják őket. Az ESN ezen akadályok leküzdésének érdekében hozta létre globális szinten 2010-ben az ExchangeAbility-t, mely az ESN idei nemzetközi Flagship projectje - így kiemelt figyelmet kaptak a szemeszterben ezek a programok. Az ESN az ExchangeAbility-vel két célért küzd hosszútávon: hogy a helyi sérült hallgatók minden szinten részt tudjanak venni a külföldi hallgatókkal kapcsolatos munkákban; valamint a másik oldalon is növelni kívánják a fogyatékossággal élők számát, segítve a kiutazásukat és boldogulásukat más országokban. Ez a különleges projektje az ESN-nek pedig egyszer egy szemeszterben kiugróan nagy figyelmet kap: az ExchangeAbility Week-en. A magyar szekciók is kivették a részüket az ünneplésben, és egy egész héten át változatos programokra csábították a külföldi hallgatókat és ESN tagokat – kettőt pedig az ESN SZIE szervezett:

Tágra zárt szemek – Blind Rapid Date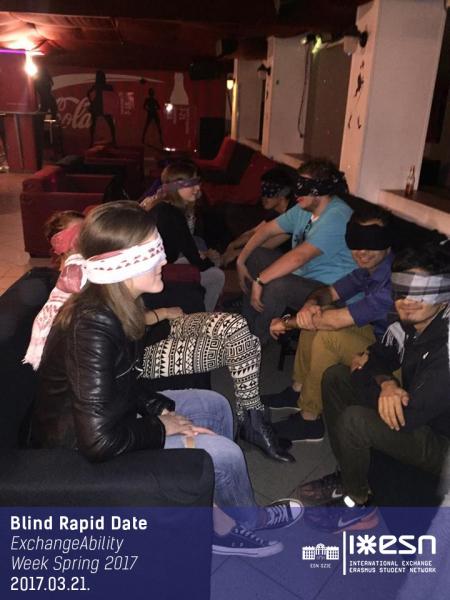 Március 21-én, kedd 5 órakor Németh Krisztina és Báthory Zsófia tíz érdeklődőt kalauzolt el a fogyatékossággal élők mindennapjaiba a gödöllői kampuszon lévő Katlan Club-ban, mely felnyitotta a külföldi hallgatók és mentorok szemét arra, milyen is, mikor valakinek az örökre csukva van. A pont szerencsés arányban összejött társaság öt fiúra és öt lányra volt osztható, kik egymással szemben ülve és kérdésenként beszélgetőtársat cserélve, két percen keresztül válaszolták meg a nekik feltett kérdéseket: az első gyerekkori emléktől az életük legnagyobb hibáikig mindent megosztottak egymással a láthatatlan partnerek – szemük világát ugyanis mindenkinek kendő takarta. Bár az előzetes zavar és kényelmetlenség gyorsan önfeledt beszélgetésbe fordult át, azért mindenki hálásan vette, mikor lekerültek a kendők és arcokat társíthattak a hangok mellé.


Egy hangot se! – Sign Language Course


Az ESN Semmelweis-szel közös kooperációban került megrendezésre március 23-án csütörtökön egy jelnyelv kurzus a Semmelweis Egyetemen, immár második alkalommal. Az este 6 órás kezdetű esemény óriási sikert aratott, mikor Báthory Zsófia és Nagy Nikicca Lilla 12 hallgatót magyar, 30 hallgatót pedig amerikai jelnyelven tanítgatott. A jelenlévők így már köszönéseket, neveket, abc-t, színeket és állatokat is mind eltudnak mutogatni a siketeknek. Jövőre pedig újra meg lesz szervezve, így ki ennél is többet szeretne elsajátítani, azt tárt karokkal fogadják! A többi budapesti szekció még számos programot rendezett meg az ExchangeAbility hetén: az ELTE Silent Pub Quiz-én, a Corvinus és IBS láthatatlan kiállításán szintén betekintést nyerhettek az érdeklődők milyen is az, ha megfosztanak minket egy-egy érzékszervünktől.
 
-------------------------------------------------------------------------------------------------------------------
ExchangeAbility Week Spring 2017
Between the 20th and the 26th of March, 40 ESN countries put the everyday struggles of students with disabilities forward, which included Hungary too. ESN SZIE cooperated with many sections from Budapest, offered a chance for both International students and ESN members to put a completly different lifestyle to the touch, while bringing them closer to the burning issue of disability.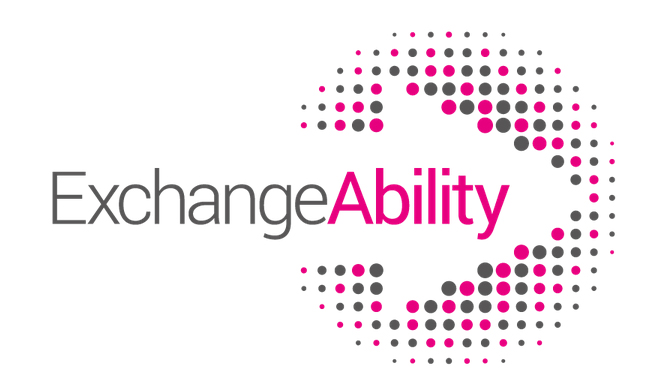 Because studying abroad surrounded by a different culture, people and language is already a huge and scary thing to do, it can be even more complicated for students facing disabilities at the same time. Besides their own everyday stuggle, they have to face inaccessible enviroments and different stereotypes. In aware of these challenges, ESN launched the ExchangeAbility project in 2010, which being also the Flagship Procejt of 2017 was generateing extra attention to these kind of programmes through this semester. ESN fights for two aims with ExchangeAbility: providing disabled students accessible association at all level of the work with International students; and in its inverse, ESN wants to increase the number of students facing any kind of disabilities going on exchange while supporting them through travelling and staying. This special project of ESN gets an outstanding regard once in a semester: during the ExchangeAbility Week. The Hungarian sections also took a major part of the celebration and attracted both the International students and ESN members to various programs all week long – and two of them were organised by ESN SZIE.

Eyes wide shut – Blind Rapid Date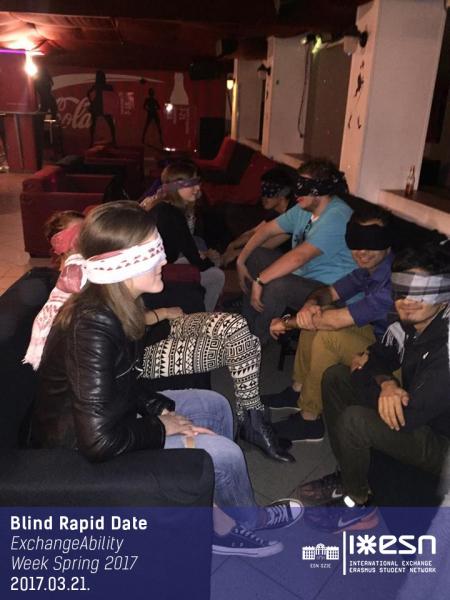 In Campus Gödöllő's Katlan Club on Tuesday afternoon March 21st, Krisztina Németh and Zsófia Báthory guided ten enquirers into the world of the everyday struggles caused by disabilities. It truly opened the eyes of the International students and mentors to the condition when those are closed for good. The number got together in a perfect rate and was able to be divided into 5 boys and 5 girls, who answered tons of questions from their first childhood memory till their biggest mistake ever made - while being blindfolded. They all switched talking partners after each questions, but never taking the scarves off their eyes. Although the preliminary nervousness and discomfort quickly turned into an overjoyed chatting, everybody felt relieved as the scarves were taken off and they could connect a face to the voice.

Talking is over! – Sign Language Course


In cooperation with ESN Semmelweis, the Sign Language Course was held in Semmelweis University on Thursday, March 23rd for the second time. The event starting at 6 PM was a huge success as Zsófia Báthory and Nikicca Lilla Nagy were teaching 12 students in Hungarian and 30 students in American sign language. The attendants are now able to sign hello, sorry, bye, numbers, the alphabet, colors and animals to deaf people. This course will surely be organised next semester again, so anybody who wants to learn more gets a warm welcome! During ExchangeAbility Week various programmes were held by other sections in Budapest: on ELTE's Silent Pub Quiz, and Corvinus's invisible exhibition the attendees could easily find out what life is like when their sense-organs are taken away from them.
Orsolya Csondor
2017.05.06.
Image: